It's hard to imagine that Valentine's Day is just a couple weeks away! If you're like us, you might have a tendency to wait until the last minute, wondering how to show the special someone in your life just how much you love them. This ultimately means buying a store bought card, a pack of Disney cards for your kid's classroom, or a bouquet of flowers.
But how about making 2014 a little bit more special? These DIY ideas will help you (or your kid) stand out in a sea of mass produced tokens of affection.
from: wikipedia
You Make My Heart Glow
Even your kid(s) need to get in on the DIY Valentine's Day magic! Not that fellow classmates, especially in the younger grades, will ever admire your handiwork, but they will think your kid(s) are coolest in school with these glowstick valentines. It takes advantage of a cute and clever printout that should be used with a thick cardstock, a hole punch, and some mini glowsticks. Better yet? It won't cost you a ton of money, at least not anymore than the store bought cards.
from: Craftiness Is Not Optional
Your Bed of Origami Hearts Awaits
The classic gesture of romantic affection is to sprinkle rose petals all over the bed, leading into your whirlpool tub. We think this gesture is nice, but we also think it's a good idea to up the ante a little bit with these 3D origami hearts. The step-by-step process is demonstrated through a tutorial video in that link. Sure, they're more time consuming than plucking off petals from a rose, but that special someone is sure to notice the difference. (Just make sure you buy red paper or they might not realize what you've made!)
from: How About Orange
A Way To A Woman's Heart Is...
Not through a cheap box of chocolates, fellas. While everyone is in agreement that chocolate is delightful, ditch the store bought box for something homemade. Anything that requires a little bit of time and effort will do, but what combination is better than peanut butter and chocolate? These Reese's Krispie Hearts stay true to the spirit of Valentine's Day. Just don't eat them all before your special someone gets to try them, or you might make the day worse than when you started.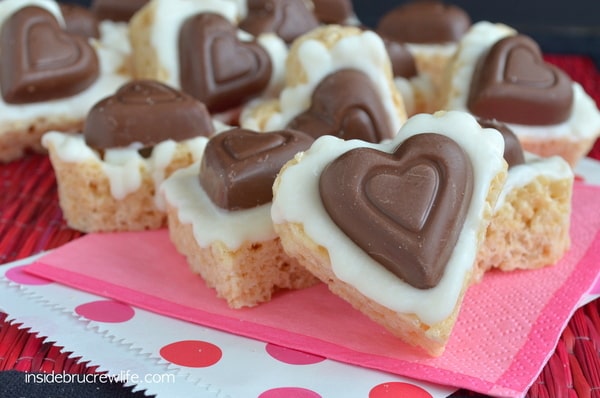 from: BrewCru Life
Creating An Experience To Last a Lifetime
Though there's nothing wrong with an immediate pleasure or a bouquet of flowers, we prefer something that isn't going to wilt away in a couple of days because it helps show our love is lasting. One of our favorite ideas is this DIY Valentine's Photo Puzzle. There might be more steps than the other projects we've listed, but trust us, the payout is worth it!
Plus you can easily customize pretty much every element so that the photo and text you include really has significance for just you and your significant other. (Your kid(s) can even make one for grandma.)
from: all for the memories
Feel free to share any other unique DIY projects you have below, or some of your Valentine's Day gift flops. We promise we won't share them with anyone else.