Now that we've made it into July, we're ready to begin that long stretch of summer when kids get notoriously restless. With all that pent up energy, it's easy to spend hours on the computer, watching TV, or playing Gameboy. But remember: it's summer, and now's the time to get active while the weather is warm. Rather go out and spend a ton of money on the latest high-tech gadgets, there are some fun and interactive DIY summer projects, most of which you can make with simple supplies. Some are even printable!
taken from: Cityline
Printable Observation Books
Nothing says summer like the fresh air and abundance of nature. Rather than just admiring it through your windowsill, get outside and turn it into a stealth science lesson! These printable observation books are easy to make, requiring only a printer, paper, ink, scissors, and a few craft supplies. The end result is a cute, well-designed designed place where kids can record their observations about flowers, trees, insects, and even shells, if you end up at the beach.
While they're off exploring nature, you can relax on your patio or porch with a book and a refreshing drink. What could be better?
Homemade Sharpie T-Shirts
If your child was outside observing, it's likely they got a grass stain on their favorite t-shirt! While it's out-of-commission in the washing machine, why not embark on a slightly more ambitious project: handmade Sharpie t-shirts. For this, you'll have to go out and buy blank white or light colored t-shirts, Sharpie markers, and look for some printable templates on the Internet. But once you have those items, your kids get to let their imagination run wild without making a big mess!
Will they decide to make an elephant, a whale, or their favorite book character? The gratification at the end is also instant, as they can start wearing them immediately after they've finished creating their mini masterpieces.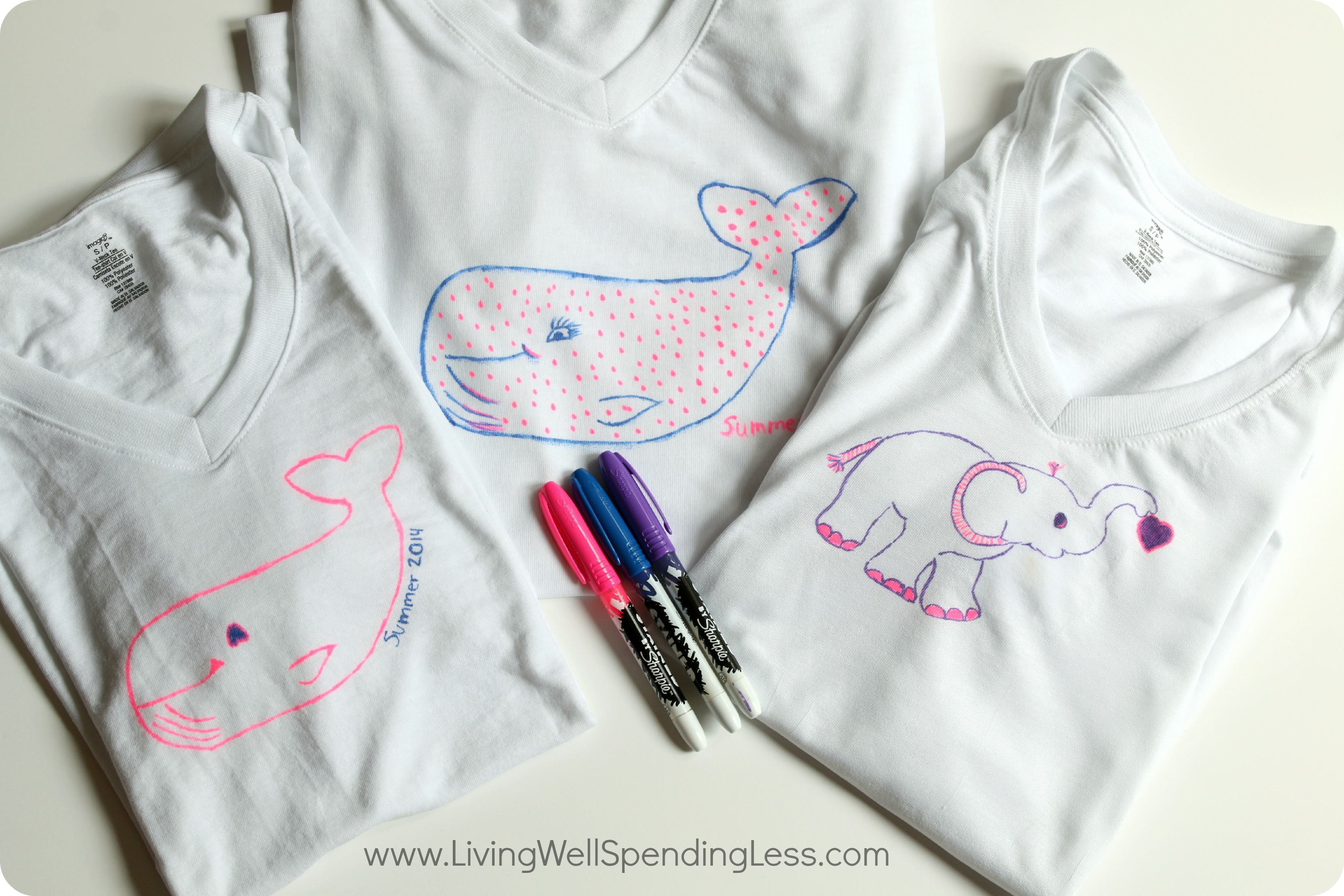 taken from: Living Well, Spending Less
Tin Can Lanterns
One of our favorite parts about summer is the nighttime. If the day is too hot for you, after dusk is a perfect time to enjoy the warm air. What better way to enhance that experience then tin can lanterns? Younger kids will definitely need to be supervised while nailing holes, but older kids will be able to do this project all on their own. Plus, if you want to add an educational component, you can teach your kids about different constellations and have them make the star patterns on the tin cans.
There really are an endless number of creative possibilities for this DIY project!
taken from: Coffee Cups and Crayons
These are just a few of the many possibilities for enjoying the most of what summer has to offer. Let us know if you've tried any of these DIY projects before, or suggest some others in the comments section below. And, as always, make the most of the season!